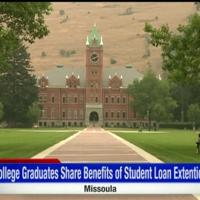 University graduates talk about the benefits of extending student loan repayments | Regional
MISSOULA, Mont. – People still repaying their student loans received good news in August when the US Department of Education extended a pause in federal student loan payments.
The original break was due to expire at the end of September, but it has been extended until January 31.
Student Loan Hero researchers found that Montana's average federal and private student loan balance is 16% lower than the national average, but the state has lower salaries, making it harder to pay.
University of Montana graduate Jessica Lewis said she and her husband owe a total of $15,000 in student loans.
"As you add another wonderful person into your life, you add their wonderful student loans into your life and it's like double student loans for me and my husband," Lewis said.
But the federal student loan payment suspension also puts a pause on interest rates, which Lewis and her husband benefit from.
"We're able to start paying off our student loans now. We've both been lucky enough to work, so it's been great because we don't have any interest to accrue on our student loans over time. So , it's been awesome," Lewis said.
Jordon Wallin graduated in 2019 and started paying off his student loans until the pandemic hit.
Now he is enjoying a break from the financial burden.
"It's really helped just on the stress side and having a little more money in my pocket and so I'm not looking forward to them doing it again," Wallin said.
Wallin is still budgeting for his student loans to prepare for Jan. 31.
He and Lewis agree that getting their debt under control is important.
"I don't want to be that person paying back loans for my entire professional career so I think it's very important that young people take advantage of this, especially because January 31 is right around the corner," Lewis said.
UM's financial advisors said there are different types of payment plans, and most schools have advisors who can help you choose the best one for you.